20th ANNIVERSARY DINNER 2016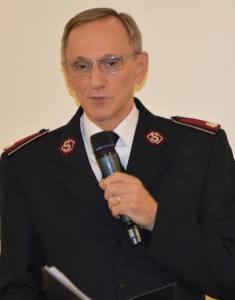 Following our successful concert on Hayling Island the very next evening some 56 or so current and former members of the Band, together with their partners, sat down in the lovely surroundings of the modern suite of rooms that form the home of the Southampton Sholing Corps to a 20th Anniversary Celebratory meal arranged by Bandmaster Dan Redhead and cooked for us by our excellent Chef for the evening Bandsman/Songster Stephen Shaw, who is a solo cornet player in the Sholing Band.
In his introductions Dan acknowledged the presence of Dennis Rudd the last founder member of the band still playing, and former Band Secretary Don Ellwood who had much to do with the formation of the Band, also a founder member. Associate Conductor Retired Bandmaster John Bird paid tribute to Retired Deputy Bandmaster David Samuels for his contribution to the life of the Band during John's Bandmastership, and presented him with a Certificate of Honorary Membership of the Band in recognition of his exceptional service.
Colonel Neil Webb's [Under Secretary Europe Zone] after dinner talk might well have been entitled "Have Cornet Will Travel" as he spoke of his love of SA Banding and his delight when he is able to play at any time in any group. He spoke of the sadness of being during the whole of his career in a declining Army in the UK, but his joy at being involved in an expanding Army abroad: how the generous donation of instruments by Australian Salvationists had enabled him and others in Papua New Guinea to transform a struggling group of 5 or six into two bands of 23, a senior band and a learners band, sharing instruments: how Kenneth Downie had given a composition for the Band to play at meetings in PNG conducted by General Linda Bond: how Bandsmen from Brisbane City Band had at their own expense travelled to the Solomon Islands to support the opening meetings of the Army there: and how at a very special occasion in a Square in Athens an Army Band played to Afgani refugees, and how the children had stood in awe as they heard for the first time music played by live musicians, something strictly forbidden by the Taliban in their own country.
And he spoke of the special role of Salvationist bandsmen, acknowledging the musicianship, the comradeship and the Fellowship, and saying that the dissemination of the Christian Gospel message through their music was still their primary function. He felt that the Solent Fellowship Band, had in its twenty years, fulfilled the role of all Salvation Army Bands, entertaining with its music, raising money for very good causes, but always proclaiming a vibrant Christian Gospel message. [DD]
Photographs of the evening appear in our Photo Gallery page on this site
---
HAYLING ISLAND CONCERT 21st October
"As always I thought the brass band was amazing. A lovely range of styles"
[Bell Canto bell ringer]
On October 21 the Band, joined by the Hayling Island U3A Handbell Team gave the fourth in a series of "Bells and Brass" Concerts at St Mary's Church on Hayling Island.
The evening had a frenetic start with our Southampton colleagues delayed by yet another Friday evening accident on the M27, arriving with but moments to spare before the scheduled start time. And that was somewhat overshadowed by the Church folks' fears that, in consequence of the support posts for their 2000 year old Yew tree being declared rotten, a massive branch might at any time fall onto the Church porch! With areas of the churchyard fenced off, access to the church was limited to a small Priest's Door which led to an intermingling of Band and Congregation on arrival and departure. A happy and good natured intermingling
The Band settling quickly in the familiar surroundings, and superb acoustic, topped and tailed the evening with two great marches. "Collaroy" written by Australian Barrie Gott to commemorate the opening of the Army's conference and recreational centre at Collaroy Beach North of Sydney, and "South Coast" written by the Band's Principal Cornet player Martyn Thomas in tribute to all Salvationist bandsmen and women on the South Coast.
As always at St Mary's, the congregation was in great voice with "Joyful, Joyful we adore you" (Beethoven's "Ode to Joy) and "God's Love is as High as the heavens" sung with great gusto to the melody usually associated with "My Bonnie Lies over the ocean" with Bandmaster Dan successfully introducing our Anglican friends to off-beat triple time clapping!
Our three instrumental soloists Steve Jones with the Trombone Solo "Take up thy Cross" (William Broughton); John Hanchett, Euphonium with "In Christ alone" (Richard Phillips) and Martyn Thomas, cornet with "In the Love of Jesus" (William Hammond arr Ray Steadman-Allen) gave musical and sensitive interpretations of their solos: with percussionist Tom Jones excelling in his slot in "Dance Like David".
Foot-tapping and lighter moments came with Andrew Mackereth's "Dance Like David"; James Curnow's "Jubilation" and Steven Ponsford's "Praise Party" together with a very relaxed and laid-back "Deep River" (William Broughton): all balanced by "Faithful God" (Chris Bowater arr Dean Jones) and "The Prayer" (Carole Bayer-Sager and David Foster arr Frank Bernaerts).
"In Time for Reflection" the band sang the Ernst Fewster, Catherine Baird song, "When Jesus Looked o'er Galilee", as always generating considerable favourable feedback, and played the Ray Bowes gentle arrangement of "My Heart's Desire".
The much restructured Hayling Island U3A Handbell Team, played two sets, opening with "Ode to Joy" from Beethoven's symphony No 9: and following with William Bradbury's "Yes Jesus Loves Me", an arrangement of traditional Nursery Rhymes, and a French Folk Song. The second set included "The Sussex Carol", transcribed by Ralph Vaughan Williams from Harriet Verrall early in the C20th, centring two secular Christmas songs, the very early "Spring Carol" melody used for "Good King Wenceslas" and the mid-C19th American song "Jingle Bells".
The Rev Pennie Paine expressed the thanks of the Church for the music and song and after a sparking performance of "South Coast" and considerable applause from our appreciative audience, mingling together Band and Congregation filed through the Priest Door, out into the night and away from the Yew Tree! (DD)