BANDMASTER DAN REDHEAD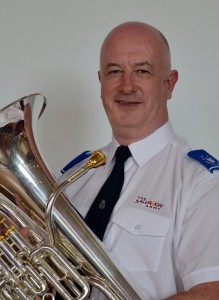 Dan was appointed as Bandmaster of the Solent Fellowship Band in March 2016. Previously, Dan held the positions of principal euphonium and deputy bandmaster within the band.
Like a significant number of the current band, Danís introduction to a brass instrument was through the Salvation Army, initially on cornet. It was not long before Dan commenced playing euphonium, the instrument with which he is most associated. In his banding career, Dan has also played bass trombone, tenor horn and tuba.
Dan's mother, a Salvation Army officer, was appointed to Wimborne Corps in 1975 and during this important stage of Danís musical development, he was able to supplement his Salvation Army banding with participation in a busy school band, which included opportunities to play throughout the UK and abroad. Dan also received music lessons from Alwyn Green (then, Bandmaster at Poole Corps). Dan remains indebted to Alwyn for his invaluable support and advice.
During the early 1980ís, Dan moved to Southampton when his mother was appointed to Southampton Citadel Corps. At this time, Dan met his future wife Nicky and together they attend the Sholing Salvation Army Corps. At the Corps, Dan plays an active part, holding the position of deputy bandmaster and is a member of the Corps Council and Corps Business Board.
In addition to Dan's Salvation Army involvement, music also plays an important part in his business life, as he owns 'Becketts' the well known music store in Southampton.
Dan and Nicky have three sons, Ben who is a head buyer for an online retailer, Matt who also works at Becketts and Paul, a retail telecommunications manager.