Welcome to the Solent Fellowship Band web site.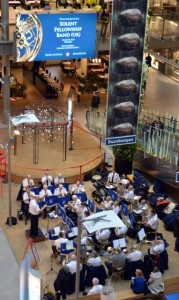 Bands have been part of the Salvation Army almost from its inception, as a means of accompanying hymns and attracting attention. In general they have been associated with local corps (churches) or staff organisations. Fellowship Bands are usually based on, and draw their members from, a wider area geographically and their members, although mostly Salvationists, do not have to be active members of the Salvation Army. The SFB is one such band with members coming from as far apart as West Sussex in the east to Southampton in the west, Andover in the north and Portsmouth and The Isle of Wight in the south. Most of its members are active Salvationists, some are former Salvationists and others are Christian friends.
The Band was founded in 1996 and has enjoyed a successful 27 years providing good music and good fellowship for its members and interesting and thought-provoking programmes for its listeners. It has produced several recordings, has toured as far as Estonia and Finland in Europe and London back at home.
Rehearsals are held twice a month at the Portsmouth Citadel Hall in Lake Road, Portsmouth on a Monday evening at 7.30pm.
We hope you enjoy the web site and that it will provide a flavour of what the SFB is all about!