TAKE TIME TO BE HOLY
SHOLING CORPS... 29 September 2017
The Band [Bandmaster Dan Redhead] began its 2017-2018 Session, and its 21st Year, with a remarkable evening of fine music making at Sholing Corps on Friday 29 September. Dan chose from the Band's eclectic range of music in its 2017-2018 repertoire a programme appropriate to an Army Corps. The evening started with the Band instantly into its stride with its first performance of "Camp Happyland" [James Anderson]: then moving immediately into Leonard Ballantine's gentle arrangement of "Shenandoah".
"Faithful God" [Bowater arr. Dean Jones], "Dance Like David" [Andrew Mackereth] followed, and the first part of the evening ended with "Las Lluvias Grandes"[Peter Graham] enlivened by half-a-dozen sombrero wearing "volunteers" from the congregation joining the Band for the first movement on a variety of Latin American percussion instruments.
After a 20 minute interval with band and congregation mingling over coffee and tea, renewing acquaintances and friendships, the Band resumed with "Be Whiter", [Barrie Gott], followed by "All to Jesus", [Roger Trigg], William Himes' "The Blessing" and "The Gaelic Blessing" [John Rutter arr. RSA]. And to round off the evening a sparkling performance of Martyn Thomas' "South Coast" conducted by the composer.
All this encompassed a quartet of remarkable soloists. Steve Jones played his first performance with Band accompaniment of what is probably the UK Premiere of Dorothy Gates' band arrangement of Ivor Bosanko's trombone solo "His Provision": the work as yet unpublished in band format was played by kind permission of the composer who generously sent Steve the band parts: and John Hanchett gave a stunning first performance with the Band of "A Welsh Fantasy for Euphonium and Band" [Ralph Pearce]. Martyn Thomas, cornet, matched by John Hanchett on piano and James Mockett on percussion took us through a whirlwind of jazz rhythms, Trad, Blues, Ballad, Latin American moving into a classic big finish, his own composition based on "This little light of mine". No little light ever glowed so wondrously and gloriously!
And in the mix was International Staff Songster Ruth Unwin. Ruth's first numbers, sensitively accompanied by Martyn Thomas, "If I loved you" by Rodgers and Hammerstein from "Carousel" and "On the Street Where you live" Lerner and Loewe from "My Fair Lady" demonstrated her ability to enthral her audience as she told each story, in words and music, with sensitivity and understanding. Ruth also enhanced the Band's playing of Geoffrey Nobes band arrangement of his own hymn tune "Lavenham", singing, with the Band, "Lord there are times when I have to ask why"
For her second spot Ruth sang, unaccompanied, the 1882 words by William Longstaff to the old Northern folk song "The Waters of Tyne" that was collected by William Bell in 1810.
Take time to be Holy,
Speak oft with Thy Lord
Abide in Him always
And feed on His Word
This was sheer musical perfection, sung quietly to a totally still, rapt and absorbed audience, perhaps almost reluctant to breathe to disturb the beauty of the song. It was exquisite musicianship: and there just needed no other message! [DD]
---
THANKYOU FROM SOUTHAMPTON!
We just received the following note about our concert on Friday evening. A full report of which will appear here shortly...
"I just wanted to add my thanks to that already publicly given for the visit of the Solent Fellowship Band to Sholing Corps last Friday evening. I felt there was a great atmosphere in the building as the band played, bringing music which was exciting, and contrasting these with some very reflective moments. It was a happy evening, and one that the corps will long remember. To date the amount of £275.54 was raised from the congregation towards the Big Collection, which we are very pleased with.
Thanks for all the hard work and preparation that went into this evening, and we will certainly pray God's blessing upon the band as you head off to Finland in a few weeks time.
God bless
Granville
Granville Myers
Major
Commanding Officer
Southampton Sholing Corps"
---
David Samuels, Promoted to Glory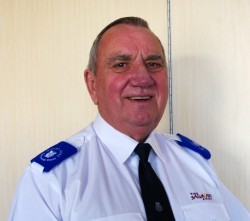 It is with much sadness that we have to announce the promotion to Glory of our dear friend and colleague, David Samuels. David passed away on Tuesday 18th July.
Davids Funeral will be on Monday 7th August at The Oaks, Crematorium at Havant at 2.30pm.
David was our Deputy Bandmaster for a while and saw us through a transitional period without a bandmaster. David joined the band in 2004 as one of our percussionists and occasional Baritone sub.
David served as a Salvation Army Corps Bandmaster at Sholing Corps and Songster Leader at Portsmouth Citadel. He was a bandsman at Staines and Thornton Heath as well as being a member of the trombone section at Portsmouth Citadel which included a stint on Bass trombone, following in the footsteps of his father who had been the bass trombonist of The International Staff Band..
For a number of years he was a very successful Musical Director of a contesting band that was graded at Championship Section level in the Wessex Region, and 1st Section Nationally.
Outside of banding David was a retired Police Officer and Sales Manager (not at the same time!). He was married to Yvonne. He enjoyed Gardening, walking and watching Cricket.
David retired from the band in 2015, although he still popped back now and then to help out on the percussion section.
David will be sorely missed in the coming days and years and our thoughts and prayers are with the family, especially Yvonne at this time
---
9th June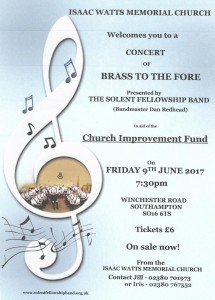 The band will be giving a concert at The Isaacs Watts Memorial Church, Winchester Road, Southampton, SO16 6TS, at 7.30pm. Tickets are £6 available either from Jill on 02380 701973 or Iris on 02380 767552
---
OPENGATE BAPTIST CHURCH BOGNOR REGIS FRIDAY 5 MAY
"Everyone should go home Happy after that Concert"
It was one of those lovely relaxed occasions: the band was made very welcome in the Opengate Baptist Church, in Bognor Regis, a modern church, spacious and with an excellent acoustic.
The Band set out with "Let there be Praise", followed by a congregational song "Joyful" and ended with our signature march "South Coast". In between Martyn Thomas, cornet, played "In the Love of Jesus" and John Hanchett, euphonium, "In Christ alone": both performances enhanced by sympathetic, controlled, band accompaniment.
The Band had fun with, "Dance before the Lord", "Daniel", and "Dance Like David", and gave a sparkling second performance of Barrie Gott's swing time "Whiter" currently gifted for the Solent Fellowships Band's exclusive use: but eventually an absolutely sure-fire winner throughout the Brass band world internationally, secular and SA: and, given the reaction by the audience, a work that will captivate and excite players and listeners alike everywhere.
The major piece for the evening was another fine performance of "The Triumph of Peace" carefully pre-explained by Bandmaster Dan Redhead, thereby aiding audience understanding of the music: and Geoffrey Nobes' "Prelude on Lavenham", beautifully and very sympathetically played exemplified the band's ability to perform to a high standard across the whole spectrum of a varied repertoire.
Apart from during the "Period of Reflection", every piece was received with enthusiastic applause, with the band standing to an ovation at the interval and again at the end, in response to a standing ovation from the audience.
The evening also marked a significant moment in the musical life of the Opengate Church when its nascent choir performed for the first time at a Concert. They sang, "I offer my life", "My life is in your hands" and an arrangement of "Amazing Grace", returning to sing again later in the programmes at Dan's request.
The Minister of the Church, Nick White, in saying thank you expressed his gratitude that the members of the Band had given so generously of their abilities and time and had donated the Concert free of all charge in order that their hosts might benefit financially to the full from the event: and, coming from "brass band country", said that he was delighted with the quality of the playing.
And to round off the evening, in a generous moment of respect for the local SA Band, Dan handed the baton to Bognor Regis Bandmaster Frank Bedford to conduct Leslie Condon's march "Bognor Regis".
All in all it was a good concert that went well! And by all accounts everyone went home very happy including the Church Treasurer with close to £400 towards the Church's rebuilding fund. [DD].
Let there be Praise arr Barrie Gott
Dance before the Lord Peter Graham
In the Love of Jesus Will Hammond arr RSA
Triumph of Peace Eric Ball
Whiter Barrie Gott
Alderney Dean Goffin
Daniel Barrie Gott
Dance like David Andrew Mackereth
In Christ alone Richard Phillips
Prelude on Lavenham Geoffrey Nobes
South Coast Martyn Thomas
Bognor Regis Leslie Condon
This concert concluded a very busy eight weeks for the band, having already provided concerts at Hayling Island Community Centre and Andover Salvation Army Corps, where £385 and £245 respectively was realised for the host's fund raising initiatives. At Hayling Island, the band was supported by Bell Canto, conducted by the band's principal baritone player, Derek Dunn. The band also provided support and musical ministry at the Salvation Army Southern Division's Adult Family Ministry event at the end of March. The band is now looking forward to its final concert of the season at Isaac Watts Memorial Church, Winchester Road, Southampton, SO16 6TS on Friday 9th June 2017. (TU).