LOOKING FORWARD TO COMING BACK!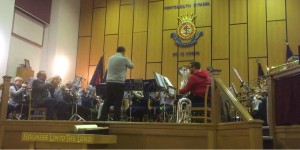 It does finally look as though we may be coming out of our country wide restrictions at long long last!
To this end we are currently planning to resume our rehearsal schedule in September. It will be an interesting time as we all learn to play together again after such a long break and there will, no doubt, be some tired lips at first!
However we are very optimistic that the band will soon be able to accept engagements for programmes again. If anyone is interested in booking such an event we would be delighted to hear from you.
Please get in contact with us either directly or though the contact page on this site.
We look forward to meeting old friends again as well as finding new ones.
---
Coronor Virus Cancellation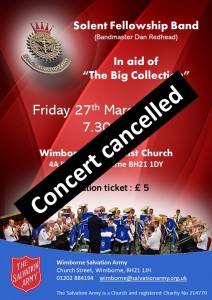 Due to the present situation with the spread of this flu virus the decision has been taken to postpone the March 27th scheduled concert in Wimborne. More details will be given later and it is hoped a possible October date might be an alternative. Watch this space for further news and developments.
---
Wimborne Concert March 27th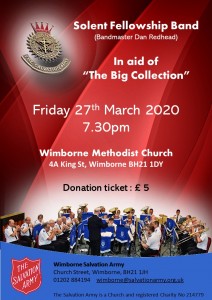 We would love to see you at this concert organised by Wimborne Salvation Army, in the Wimborne Methodist Church, BH21 1DY further details here in the poster.
---
CONCERT HAYLING ISLAND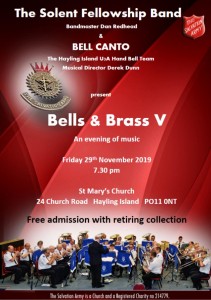 The Solent Fellowship Band & BELL CANTO (The Hayling Island U3A Hand Bell Team)Musical Director Derek Dunn
present a concert - Bells & Brass V
An evening of music
Friday 29th November 2019
7.30 pm
St Mary's Church
24 Church Road Hayling Island PO11 0NT
Free admission with retiring collection
---
NEW PUBLICITY POSTER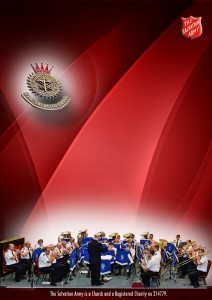 We are delighted to unveil our new poster background. Supplied courtesy of Com.Siegfried Clausen and created from a photo taken by John Ellwood at our recent fundraising concert at Southsea Salvation Army. The band remains available to you if you wish to book us for a concert... the poster will come free with us!!