David Samuels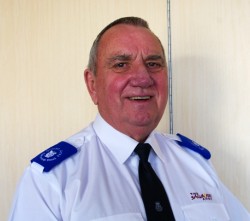 David was our Assistant Conductor for a while and saw us through a transitional period without a bandmaster. David joined the band in 2004 as one of our percussionists and occasional Baritone sub.
David has served as a Salvation Army Corps Bandmaster at Sholing Corps and Songster Leader at Portsmouth Citadel. He has also been a bandsman at Staines and Thornton Heath. For a number of years he was a very successful Musical Director of a contesting band that was graded at Championship Section level in the Wessex Region, and 1st Section Nationally.
Outside of banding David is a retired Police Officer and Sales Manager (not at the same time!). He is married to Yvonne. He enjoys Gardening, walking and watching Cricket.
David retired from the band in 2015, although still pops back now and then to help out on the percussion section.