Derek Dunn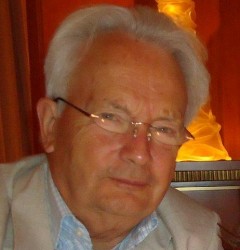 Derek was born into a Salvation Army family in St Peter Port Guernsey. Both of his grandfathers having played in St Peter Port band before the turn of the 19th century, one a tuba player the other the band's side drummer. After evacuation from Guernsey and war-time periods in Wrexham and Bridgwater, the family moved to Southsea where it became totally immersed in the activities of the Corps. Derek eventually became the solo horn player in the band, enjoying the Band's extensive travels in the UK and abroad in Norway.
Derek started his working life as an Electrical Fitter Apprentice in Portsmouth Dockyard, a field of activity that never excited his interest, although he remains immensely proud of surviving in the very competitive Dockyard School through to the final 4th Year! He passed the external nationwide examinations to become an Officer of Customs and Excise, but National Service intervened and after the usual training periods spent a long period at Sopley near Christchurch where Songster Leader and Mrs Frank Britan provided a home from home. A period in Malta gave an opportunity to play in a small international SA Band.
Returning to normal life as an Exciseman, Derek worked for a while in London, playing regularly with Lewisham Band and, after marrying Joy, work with Customs and Excise took them to Sholing, Ware and Derby. He played in the bands at all three locations and ran the YP Bands at Sholing and Derby Central for a time.
Travels with a variety of posts, within Customs and Excise, the Treasury, and the Department of Trade and Industry took the family on from Derby to Fleet and an appointment at the House of Lords. After 10 fascinating years at the House of Lords [sadly not as a Peer] post retirement consultancy work included several months at the House of Commons, some years with an International Charity based in London and a particularly fascinating task dealing with problems in an Editoral office producing a nationwide weekly magazine.
For well over 20 years, Derek's main responsibilities related to the organisation of work both within Government institutions and associated bodies such as the central organisation of the CAB and the then "Users" councils, with specific interest in the efficient use of resources: the evaluation of jobs and the assessment of appropriate pay levels. Earlier a particularly enjoyable 4 year period was spent as the UK representative to a European Union committee in Luxembourg dealing with the development of the EU classification of goods for the collection of trade statistics.
After a year or so of retirement Joy and Derek moved back to the South Coast with Derek joining the Solent Fellowship Band in 2003: recreated as a baritone player!
Along the way Derek took time out for an Upper Second BA Hons at the University of Nottingham followed by a Masters at Birkbeck College London: pursuing a life-time interest in politics: especially communist institutions and the USSR. He was awarded the Imperial Service Order in the Queen's Birthday Honours in 1990 and with Joy and two sons enjoyed a half day at the Palace for the Investiture.
Over the years he has been involved in the community e.g, as a School Governor. Since retirement he has worked with Young Offenders for 7 years and now spends time as an independent lay visitor to police stations; sitting on School's Appeals panels for Hampshire County Council and Portsmouth City Council: Chairman of the Hayling Island PROBUS club and with the U3A on Hayling Island currently running a hand-bell team of 23 "seniors", and a current affairs group; Derek also organises the annual functions for the House of Lords Retired Staff Association. His current project is a series of programmes for Angel Radio of music from the Army's choral and brass traditions.
Away from all this Derek has been a life-long follower of the fortunes of the Portsmouth Football Club, mainly a painful experience but punctuated by the occasional happy times; follows cricket, but believes that the only cricket worth watching has to be games over 5 days – the biff-bang wallop of Twenty20 leaves him quite unmoved; and he enjoys regular visits to London for opera, ballet and symphony concerts.
Joy and Derek have four children, and 11 grandchildren ranging from 26 down to 2 years old, in an international family with Chinese and Mexican daughters-in-law. The travels of their family have taken them from Hong Kong to Brazil, to Japan, Australia and New Zealand, to Mexico, Canada and around Europe.