Doug Hulme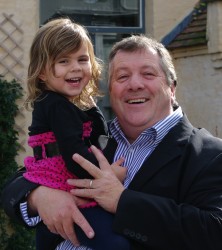 Doug is our Bass Trombonist, only the second one in our history. Doug succeeded Mike Parker, who twisted his arm to take the seat, when he retired!
A lifelong Salvationist Doug's family come from Stockport Citadel, Ryde and Andover (The war has much to answer for!) but he was born at Ash near Guildford, and has lived in various places including Mid Wales and now Titchfield in Southern Hampshire. He was educated at school in Ash and further education in Bishops Stortford and Cambridge.
Doug is a teacher by profession. He began by teaching Geography and P.E, then changed to Design Technology via Metalwork but eventually taught most subjects by virtue of the fact that he worked in special schools for children with either learning difficulties or behavioral problems. He was also a semi professional basketball player with the famous Crystal Palace team of the late 70's and 80's. He had 4 years off from teaching when he was the managing director of a company manufacturing fishing rods, but quickly returned to his vocation and became a head teacher of an EBD special school, before taking up his present post as Chief Executive of a national children's charity called Second Chance: A charity that works with children who need special help.
Within The Salvation Army Doug has been a bandsman at Alton, where he grew up and moved through the ranks of the YP Band and into the senior band. His teachers were Dennis Poore and later John Knight. His father, Ron Hulme, was a well known trombone soloist with the Alton band and Stockport Citadel before that. He has also been a bandsman at Harlow and very happily at Wrexham, in North Wales. For the past thirty years or so he has soldiered at Portsmouth Citadel. He has also been privileged to be a guest with many Salvation Army bands when they needed a bass trombone!
Doug says that a combination of playing the trombone and belonging to The Salvation Army has had a profound impact on his life. It has taken him to many parts of the world, working in Russia for a number of years soon after the fall of communism to being a guest of The International Trombone Federation at various events in places such as New Orleans, Las Vegas and Austin in the USA as well as Denmark, The Nederlands and the UK. He has been very privileged to play alongside and learn from some of the really great trombone players of the world. He currently plays not just in our Fellowship Band but also The Portsmouth Citadel Band and even the Divisional Youth Band! Doug is usually quick to point out that the youth band tenure is due to his own youthful good looks and great talent, but The Fellowship Band know the truth... he's the taxi driver for the younger members of the youth band! His great love is small ensemble work, he says it takes less puff!!
Doug is married to Jill who plays cornet in the band. They have three sons two granddaughters (Ella & Brooklyn) and between them is a grandson, Percy (Warren and Clare being his parents!). One of the boys, Nathan, has married a Kiwi girl, Meredith and moved to New Zealand, which is where they live now with Brooklyn. The family therefore takes up a lot of time and traveling but what time is left after family, music making and Doug's ministry with the young people is occasionally spent in conservation work, fishing or motorbike riding. He also has an inclination to collect interesting trombones, his studio is full of them!