Jean Jevon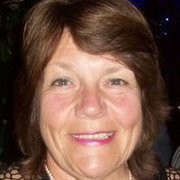 Jean was born into a Salvation Army family at Lancaster. Her Dad was Corps Treasurer, and Mum was the Sunday School Treasurer (when she was a young girl all the Sunday collections were stored under her bed till the Banks opened on Monday morning!!) She learned to play tenor horn at 8 years old, joined
the Royal Air Force Central Band at 17yrs old, now playing cornet, and was stationed at
Uxbridge.
At her audition, the Wing Commander asked her to play a scale. She says "I duly performed the C scale. He then said "Can you play another one please" I replied, "There aren't any more are there? There was a short silence then he said, "Did you learn to play in the Salvation Army" "Yes" I said. "Thought so" he muttered, "Beautiful tone, plays like a dream, no theory at all" They soon taught me though!"
She travelled extensively with the Band and she took her exams up to grade 8 and became a Junior Technician Musician.
After 5 years enjoyable service, she left and joined the Lancashire Constabulary Police Force as PW112 and was stationed at Ashton in Makerfield and then
Skelmersdale (and played in their 2nd section brass band)! She enjoyed many contests, including, for one year only, the dizzy heights of the Championship
section and the National Contest! Her band didn't win though! After getting married to Tony and having their first son, Gary, she left the Police force and moved back to Lancaster, where Glen was born. Her Dad started taking Gary to Sunday school and she regained contact with the Army and again played in the SA Band and, with Tony, ran the Youth Club. She transferred to Morecambe Corps where she became the YP Band leader. She says she had a great set of kids there, they did lovely festivals, outreaches and weekends away and all of them went to the divisional Music Schools. Her own two boys, along with many of the YP band, were in the divisional Youth band which toured Europe on a few occasions.
She was now working as Care Manager for the Home Care Dept. of Lancashire County Council. Tony became disabled and they had moved to a country village which made it difficult to get to meetings at Morecambe, so they joined the local Methodist church. Jean played in the Worship band and another local
contesting band at Kendal. Jean then had to have two operations on her ears and was told not to play an instrument again as it might injure her hearing once more. She says that at the time she was devastated...
They decided to move south in 1997, their younger son had already migrated to Southampton and they thought it would benefit Tony's health. Jean got a Scheme Managers position in a Sheltered Accommodation complex in Havant, so down they came. She was so missing her music and after they had moved to Hayling Island in 2001, she joined the Hayling Island Choir. One Christmas concert, on Hayling, a few years later, the Solent Fellowship Band were the guests. She was really overjoyed to hear an Army band and Army music again, so when she was invited by Derek Dunn, the bands 1st Baritone player, to come to a rehearsal, she decided to try. She told the Bandmaster at the time that she could only now play 2nd cornet, so as not to put pressure on her ears and she is now so happy to be a part of
this lovely band and to be playing the wonderful music which has been inspirationally written for the Army bands.