Ann Porter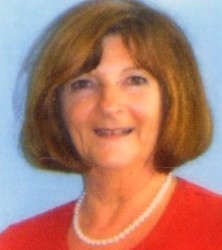 Ann plays 1st Trombone and is married, with two grown up children Kaytie and Chris, three lovely grandchildren - Tabitha 11, Miriam 3 (going on 16) and Freddie 3 weeks old at the time of writing. Ann's daughter Kaytie has her own profile on this site having been a regular guest soloist with the band.
Ann is currently playing in three bands - Southsea Citadel, Solent Fellowship and Spinnaker Brass.
We thought we'd let Ann tell her own story…
Interested in brass bands from the age of 11 when I played in Dinnington YP Band who were the first young people's band to appear on television in a programme called "All Your Own" hosted by a very young Judith Chalmers.
My banding experience came to an abrupt end at the age of 17 due to the rule that women weren't encouraged to play in Salvation Army bands. Maisie Wiggins was my inspiration and I tried to emulate her style and although I didn't belong to any particular band, I still played whenever I was invited to contribute in South Yorkshire Divisional Festivals, meetings etc. Women trombone players were still a novelty at that particular time.
I was invited to play in the Solent Fellowship band about 18 months after its inauguration by Mike Parker, the bass trombonist at that time. I tentatively accepted as I was conscious I didn't have any experience of playing in a band when the majority of bandsmen had been playing on a regular basis for many years. I must admit that I revelled in the music that was chosen as I had been denied the privilege of playing such pieces as "The Old Wells, Songs of the Morning, Under Two Flags, and many other what we now call "Army Classics".
Of course rules change and women are now accepted in brass bands. My banding experience has been enhanced by playing in Portsmouth Citadel Band and the highlight of this was travelling to the USA, visiting San Diego, Sacramento, Los Angeles , taking part in the Rose Bowl Parade and finally celebrating New Year at Tustin Ranch. That was a great experience and I feel truly privileged to have been able to have taken part.
I'm currently playing with Southsea Citadel Band and this again is a great experience. Playing in this band means I can't rely on anyone else and I have to be as accurate as I can. Mark Streather, the Band Master there is as a band trainer second to none and I am learning so much.
The trombone section in the Fellowship band is going from strength to strength with new members providing skill and expertise. I find I'm improving as a result of listening and striving to do better.