Lloyd A. Bates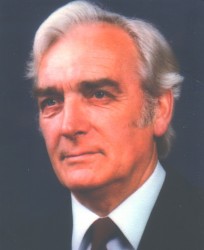 Lloyd A Bates
Lloyd learned to play the cornet in the Junior Band at Portsmouth Citadel, he transferred to Portsmouth Citadel Band in 1936 and soon established himself as a fine cornet soloist, and from that time onward until his retirement from the band in 1975 he was featured as a soloist on many of the bandís concert programmes. His favourite solos included such SA classics as Ė Maoriland, Wondrous Love, Glory to His Name,
Memories and Jubilate.
He was appointed principal cornet in 1948 succeeding his mentor Deputy Bandmaster James Bailey in that position. Following the bandís tour of Holland in 1949, he also succeeded James as Deputy Bandmaster, retaining that position and giving his full support to Bandmaster Harold Nobes for over 25 years. At the time of his retirement he was awarded by the Salvation Army the title of Retired Deputy Bandmaster.
In 1996, Lloyd came out of retirement to become a founder member of the Solent Fellowship Band, playing with the band for 6 years, until ill health prevented him from playing his beloved cornet. He was promoted to glory in December 2006.