Martyn Harris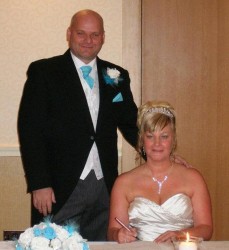 Martyn Harris is our illustrious 2nd Baritone Player…
Having been born in Redruth, Martyn is a Cornishman that is proud of his roots. He moved from Cornwall to Cardiff with his family at the tender age of 12 and lived there until 2009. Martyn reckons that if he lived in Wales for another 40 years he may have almost been considered a local!
He attended the Salvation Army in Redruth where he started to learn to play Tenor Horn in the very small Corps Band, and then transferred to Cardiff Roath Temple. This Corps then merged with the Cardiff Goodwill Centre and became Cardiff East Corps.
During his time there Martyn held various local officer positions, including YP Band Leader, Songster Leader (although Martyn states that these positions were more a reflection on the fact that no one else was willing to take on the responsibility rather than his musical ability), and he was also for a time the Corps Sergeant Major.
Martyn married and had two sons Jack and Gareth who are now 16 and 18 years old.
From school Martyn had a 15 year career with what was then British Rail, holding various Customer Services positions and ending this career as a Call Centre Manager. After a spell working for a holiday company Martyn started working for the AA in 2004. Having held various positions within the AA Martyn is now an Administrator and Compliance Officer working for AA Media at their head office in Basingstoke.
When his earlier marriage ended, Martyn met up with his "first love" Jewlee, who he had first met in 1983 through a Salvation Army Holiday, and in August 2009 moved, with his two sons to Portsmouth.
Martyn and Jewlee got married in April 2012 and they are now a happy family, with five teenage sons living at home!
Martyn is now an enthusiastic part of the Portsmouth Citadel Corps and helps to run the Men's Fellowship (Mzone) and facilitates a "Football Fellowship" where a group of up to 20 men and boys play football once a month.