Martyn Thomas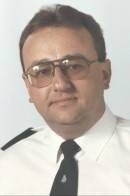 Martyn was our principal cornet player for many years…
Martyn's roots are in the Salvation Army. Martyns grandfather (Walter Thomas) actually worked for the Salvation Army's Music Editorial Department as long ago as 1918 with such luminaries as Albert Jakeway, Henry Hall and Eric Ball. This was during the 'famous' Hawkes/Goldsmith era. Walter had several band compositions published, notably the marches 'Southsea I' and 'The Whosoever' and went on to become the Bandmaster at Southsea Citadel towards the end of World War II. Martyns father (Stanley Thomas) was known to many of the present bandsmen and was appointed to the position of Bandmaster in 1961, succeeding his Father. Stan, as he was affectionately known, in addition to directing 'The Joybelles' singing group was also involved for many years instructing at Salvation Army schools of music. Martyns Uncle (Derek Thomas) and Brother (Melvyn Thomas) were also Salvation Army Bandmasters. Melvyn sometimes deputises with the Fellowship Band.
Regarding Martyn himself, he started playing the piano 'by ear' at the age of 2, learning the cornet and guitar at age 8. In addition to playing in Salvation Army Bands he was often involved singing and playing in various groups – his preference being rock, blues and jazz. In 1978 he was top boy at the Welsh School of Music winning the coveted HB award. Other notable landmarks in his career include being an instructor at the world famous Star Lake Music Camp (USA) in 1995 & 1996 and becoming a DMus (Composition) in 2005.
Martyn has become a well known composer over recent years; his first published brass band work was the march 'South Coast'. This march was subsequently included in the journal 'Favourite Marches of the Salvation Army'. For a list of his recognised brass arrangements and compositions refer to the website http://www.ibew.org.uk/bbcomp.htm
Before joining The Fellowship Band, Martyn's last stint playing in a brass band was as principal cornet with Portsmouth Citadel Band – from January 1992 to October 1996. 'Golden Slippers', 'Silver Threads' and 'Life's Pageant' were his favourite featured variation solos.
After this he continued to write for and play with various bands and groups. In particular, he was lead trumpet with the Clive New Big Band for 8 years and then served as leader of this band for a further 5 years after Clive passed away. The year 2007 saw the commencement of his music being recorded and published in Holland by BB De Waldsang and Lake Music respectively. BB De Waldsang has been Dutch National Brass Band Champions no fewer than 12 times.
Just recently he has joined the team of expert composers/arrangers at Manchester based brass band specialists Devilish Publishing.
During the covid lockdowns and due to some ill health Martyn has had to reluctantly step down from his esteemed position as principal cornet.