Dan Redhead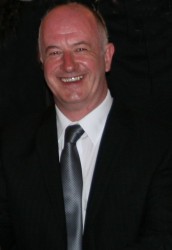 Like many brass players Dan was introduced to brass bands at an early age within The Salvation Army and was given a cornet to play. His early recollections are being sat on the 2nd cornet bench with Dorchester Senior Band and being told by Songster Leader Herbert Young that as the only 2nd cornet player he had a solo coming up. Dan says he can still remember the fear of that occasion now!
Dan's mother, a Salvation Army officer, was appointed to Wimborne Corps where Dan was welcomed into the band as a progressing player, still on cornet. His long musical association with the euphonium, however, was just about to start... One day his cornet was taken for repair and he took a spare euphonium to school to play in his weekly music lesson. The head of music heard him playing during his lesson, and the request made "see me in my office at break time". He informed Dan that he needed a euphonium player for the school band and that the position was now his. Dan then had to return to the corps band to ask if he could now play euphonium; thankfully the answer was "Yes".
The school band visited many parts of the UK and Europe which was all good playing experience. He also had the good fortune to receive lessons from Alwyn Green, at that time Bandmaster of Poole Corps, who encouraged Dan and offered invaluable advice. Dan says "I still hear his words of wisdom even now when I play".
Dan moved to Southampton in the early 80's after his mother was appointed to the then Southampton Citadel Corps. Dan says "I met my wife outside of army circles and later found out that she soldiered at Southampton Sholing Corps. Following our wedding in 1984 I transferred to Sholing and was welcomed into the band playing euphonium. Although there were periods playing solo horn and bass trombone I always returned to the euphonium chair. I am still playing euphonium at Sholing after all these years, I guess I must be doing something right!". Dan also holds the position of deputy bandmaster.
Music is an important part of Dan's day to day life because, along with Steve Jones (our Solo Trombone player), he owns the well known music store 'Beckett's' in Southampton. He says this keeps him in touch with music at the grass roots level advising and supplying instruments to the players of the future as well as those already established musicians.
Dan says "I was pleased to be asked to take up the position within the Solent Fellowship Band and hope that I will be able to fill the chair that Bryan's vacancy has left. I am looking forward to working with Tony on the euphonium section; Tony and I have known each other for quite a few years having both played in the original divisional youth band back in the 1980's".
The Fellowship band welcomes him and we look forward to a long and enjoyable stay.