Sue Bird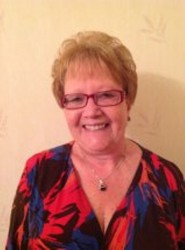 Sue was our Band Secretary and second horn player for several years.
Born into a Salvation Army family in the Channel Islands. Sue attended St. Peter Port Corps, Guernsey.
Music played a large part in their family life; Sue's father being 'The Musician' correspondent during that time. Each Sunday the family followed the band down to the Quay for the evening open-air and during the summer months drew crowds of holiday makers.
One frequent request was for the little girl to sing a children's chorus of the time 'Look for the blue in the sky' this became Sue's introduction to engaging in Salvation Army music.
Life took on a new view of banding when the family left the Island and moved to Huddersfield where brass bands in the area such as Brighouse and Rastrick were role models and where Salvation Army bands joined marches across the Dales to celebrate Easter with local village churches. Sue says the thrill of marching behind the band was an experience which has stayed with her right up to the present.
Moving to Portsmouth brought the opportunity for her to learn tenor horn in the YP Band at Portsmouth North Corps. School bands were just becoming popular and at 13 she enjoyed playing solo horn in the Portsmouth Schools Brass Band led by Wesley Johnstone at venues such as the Guildhall.
During this time she progressed to the Senior Band at Portsmouth North and instead of marching behind the band she marched within the band as solo horn. Sue also became the Singing Company Leader enjoying working with the youngsters over a 5 year period.
However, once married she transferred to Portsmouth Citadel, where unfortunately at that time ladies were not allowed to play in senior sections! so she concentrated on singing and became Singing Company Leader and later Songster Secretary for some 10yrs.
Over the years and as attitudes changed she was invited to join the Corps Band which she enjoyed but seeking a less prominent role took up second horn. However, a change in her circumstances saw her step down from banding for several years as she re-married and spent time visiting many countries and places with her husband John Bird.
Sue's hobbies include reading, cross-stitch, swimming; pilates and spending time with her four grandchildren Lucy); Jessica; Callum and Alice.
Sue says "now in the fellowship band I find returning to banding brings back the thrill and satisfaction of playing unique Salvation Army music".