Laurie Findlay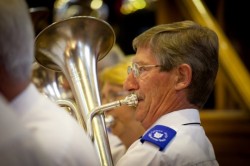 Laurie was our 1st Baritone Player for many years and sometime piano soloist and accompanist on many band programmes.
Laurie was born in Banbury, Oxfordshire but, at the age of 2, moved with his parents to Gosport where his father became Bandmaster. The corps officer who most remains in Laurie's mind, during this period, was Norman Bearcroft who, at the time was a lieutenant and Laurie well remembers him playing cornet solos holding the cornet in his right hand while accompanying himself on the piano with his left hand! Laurie took his place in the cornet section of the band until he moved to London and joined the Chalk Farm Band. Coincidently at that time, as now, joining with Mike Stubbings our EEb bass player.
Laurie says that move marked the start of one of the most exciting and rewarding periods of his banding career. He soon gained the nickname 'fingers' from his fellow bandsmen. Laurie is keen to point out that this was not because he supplemented his meagre Civil Service salary by joining the London pickpockets but because he regularly featured on band programmes, like now, as the piano soloist along with the Bandmaster, Michael Clack. During this period he went on the same European tour as mentioned in Mike Stubbings profile on this website. Laurie says these were very happy but exhausting days.
At the end of this period Laurie changed departments at work and joined HM Customs & Excise becoming a VAT man and eventually joining the Portsmouth office. On returning to the Portsmouth area Laurie joined a contesting band where our own David Samuels was musical director. This was, again, a very happy Period for Laurie that was brought to an end when he was recruited by SEEBOARD, the electricity utility, to be their VAT Manager, based in Sussex. Laurie was becoming increasingly deaf at this time and thought his playing days were over Laurie goes on to say "and they would have, had I not retired back to Gosport where I was assured there was a place for me in the Fellowship Band. Obviously years without playing an instrument have taken their toll but I am now enjoying the fellowship of a group of players who are very caring and play to a very surprisingly high standard".