Alex Manning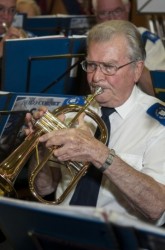 Alex was a stalwart and founding member of the band and was until his retirement the senior member of the Portsmouth Citadel Band.
Alex was born to Salvation Army Officer parents in Canterbury on 12th June 1934. It tells you much about Alex when he said "I do not know much about this because I was rather young at the time"!
As time passed, as it does, he grew up through the Young Peoples sections. In due course he transferred up into the senior sections and on the 5th February 1950 at Harwich (where his parents were in charge of the Red Shield Club) he became a senior bandsmen. So began an unbroken, until retirement, period of service.
Alex, with his usual dry sense of humour added "I guess that there were a few sighs of relief when we transferred to the Red Shield Club in Portsmouth early in 1953".
This move was very significant in many ways, not least because Alex said "This is when I met a certain young lady who in 1961 became my wife (the best move of my life!) and she has been at my side ever since".
Alex joined the cornet section of the famous Portsmouth Citadel band playing alongside the legends that are Lloyd Bates and Dennis Rudd. Then, for health reasons, there was a move to Flugel Horn in 1970. A position he continued to enjoy until his retirement.
During his tenure at Portsmouth Citadel he has had the opportunity to play in several overseas tours including twice to Switzerland and Germany, Italy, Sweden, Ireland, Norway, Belgium. Other events include playing at The Royal Albert Hall at the centenary celebrations of The Salvation Army, Christmas television broadcast from the Commonwealth Centre, several live radio broadcasts, recording in the Abbey Road studios, playing at The Big Church Day Out and other events to huge audiences.
Alex served a 6 year apprenticeship as a motor vehicle technician working on Jaguars for several years.
Obtaining a post at Portsmouth Polytechnic he was able to study production engineering to gain further qualifications in a different branch of engineering.
Alex's last 22 years prior to his retirement saw him teaching at Highbury and Southdowns Colleges. During this time he was able to assist in developing NVQ courses in motor vehicle studies at Brooklands College.
Alex's general interests were playing and coaching table tennis, watching most forms of motor racing, big band and traditional Jazz music.
Alex was a founding member of this band and in his words he told the story "I was approached by Don Ellwood and Harold Nobes enquiring if I would be available to play in a band comprised of instrumentalists from around the area to form a new group. Without hesitation I said yes, and in time we formed this band to which I am pleased to be associated. Following the untimely death of Philip Thripp, I became responsible for all of the bands music, a job I carried out for about 10 years".
Until relatively recently Alex was still playing Flugel Horn in both Portsmouth Citadel Band, as well as The Fellowship Band so between the two bands he was kept very busy. Alex lived in retirement in Waterlooville ably looked after by Sheila but sadly, after all these years of amazing service at such a high standard, dementia took a grip and Alex was promoted to glory during the ravages of the lockdown in 2020, meaning so many who would have paid their last respects could not do so and the band was unable to mark his passing as we would have liked too.
There is no doubt at all that we all miss Alex, his sense of humour and his undoubted musical ability. Well done good and faithful servant.