Brian Easton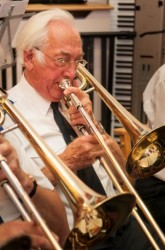 Brian had a spell as our First Horn Player but for most of his time in the band he was an invaluable Trombone player. If you scout around the photo galleries you are more likely to find Brian with a trombone in his hands than anything else.
Brian commenced playing baritone with Plumstead band in 1946 where his father was band sergeant and played trombone. He also played with Coventry City and Wickford bands for periods during the course of his work, returning to play with Plumstead on coming back to the south country.
He qualified in chemistry and has spent the major part of his professional life working in semiconductor materials research.
Brian is married to Jeanne and they have two sons, a daughter and seven grandchildren. His interests include working as a conservation volunteer in the South Downs, trying to keep up with computer technology (!) and spending time in south west France where he and Jeanne have a family holiday home.
He considers being a member of the Fellowship Band and still being able to play Army music a very special joy and privilege. Of the numerous band pieces that are remembered, Eric Ball's "A Soul's Awakening" and George Marshall's "Horbury" hold special places.
Brian's son Simon plays solo cornet in the band too.
Sadly at the beginning of 2021 Brian made the decision to hang up the trombone and retire but he is still very much a part of the band and with Simon keeping the family presence ever bright we hope to see much of Brian in the future.