Sue Bryant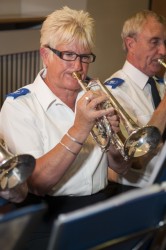 Sue plays First Cornet, an instrument that she has played since the age of 11.
Sue was born in Portsmouth, the daughter of a naval carpenter, and one of six children.
The Bandmaster of Sholing Salvation Army and long standing member of Portsmouth Citadel Band, the late Eddie Leggett, came to Sue's secondary school, John Pounds, with the intentions of starting up a brass band.
Sue was interested in joining the band, and went along to the auditions.
Fortunately for Sue the only qualification needed to gain entry to the band was enthusiasm, and the ability to produce a note from the instrument!
The brass band went from strength to strength, and Sue's musical ability blossomed with it. The band played at various locations, including the school carol concert, and even before a match at Fratton Park. Sue entered a music contest at school, and can remember coming first playing Brahms lullaby on a cornet.
After leaving school Sue joined the Portsmouth City Fire Brigade Brass Band, and often played in the half time interval at Fratton Park as part of a marching band. The band also played at the Littlehampton Carnival every year, Sue remembers fondly.
Sue then got married and raised her two sons Steven and Garry, both of which make her very proud.
When the children were older Sue resumed her musical activities, joining the Southsea Silver Band, which later became Lucketts Travel Southsea Band.
(This was a contesting band of championship section). Sue played in this band for 14 years, traveling around the UK and Europe.
Due to working full time, and caring for her late mother, Sue took a break from music for a few years, before joining the Solent Fellowship Band in 2008. Sue has since become a soldier and a member of the Portsmouth Citadel Corps, and plays in the Corps Band.
For the last few years Sue has been librarian for the Fellowship Band, and enjoys all aspects of her musical life.