Bandmaster John Bird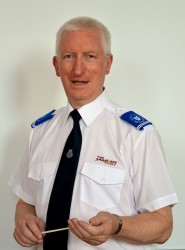 John was Bandmaster of The Solent Fellowship Band from 2011 until he retired in that position in March 2016, When his Deputy Bandmaster Dan Redhead took the responsibility over. John presided over a most successful and satisfying period of the bands history. This included the bands first two CD 'albums' the tour of Estonia and appearances at various venues such as The Regent hall in Londons Oxford Street. He saw the band grow in numbers and decline in average age - a great achievement!
John started his musical career in 1953 when he became a member of the Young Peoples band at Portsmouth Citadel. In 1961 he joined the Citadel band, playing trombone, under Bandmaster Harold Nobes; the period that followed was a rich musical learning experience. In 1968 John was appointed the Young Peoples Band Leader and for six years many quality players were produced for the Senior Band.
In 1974 John was appointed Bandmaster at Southampton Sholing and following three fruitful years returned to Portsmouth Citadel in 1977. He played bass trombone in the band and in 1978 a nineteen year association as Songster Leader of the Portsmouth Citadel Songsters commenced. During this time the Songsters undertook some 36 away weekend visits, an overseas tour of Switzerland, Germany and Holland, produced 6 acclaimed recordings and sang as a solo brigade at the 1987 Bandmaster/Songster Leaders Councils festival at the Royal Albert Hall.
John was the first leader of the Southern Divisional Youth Chorus in the mid-eighties, a position he held for some four years.
Johns working life started as an electrical fitter apprentice at the Naval Base in Portsmouth. He then moved to the Central Electricity Generating Board where he was sponsored to study for a degree in electrical and electronic engineering. A period of research at the University of Portsmouth then preceded a 22 year lecturing tenure at Highbury College starting in 1973, with the latter seven years serving as Head of Applied Electronics. Between 1995 and 2002 John lectured in Engineering Mathematics and Physical Sciences at the University of Portsmouth. Since 2002, John has worked as a Senior Training Provider at the Royal Naval School of Marine Engineering at HMS Sultan in Gosport. He is an Examiner for City & Guilds and for International Baccalaureate and holds the professional qualifications BSc (Hons), CEng, CSci, CMath, MIEE, FIIE, FIET, FIMA, FCollT.
In 1976 John wrote his first Mathematics textbook and this was the start of a fruitful period where, to date, some 120 books on mathematics, electrical engineering and science topics have been authored. Worldwide sales of the books are approaching one million copies. John has recently completed contracts for a 6 further books.
John married Liz in 1968 and has two daughters Amanda and Yvonne. In the mid 1990ís, Liz who was the first manager of the Haven Community Centre, became ill and when this illness became terminal, it hastened Johns retirement as Songster Leader; tragically, Liz died in 1998.
John is now happily married to Sue (currently the Bands Secretary) who also has two daughters, Tracey and Vanessa. Three grandchildren and five step-grandchildren are a particular delight.
John enjoys travel, reading and sport, particularly football, cricket and squash