Julian Poore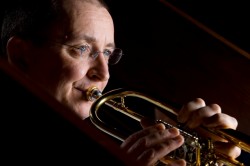 Julian Poore... Trumpet
Julian was guest soloist in 2010 with the band PremiŤring for the UK the work "When morning gilds the sky" by American composer Gregory Pascuzzi.
Julian was taught to play by John Knight, the founder of the Hampsire County Youth Band. With additional help from Ernest Piper and Chris Kennett he qualified for study at the Guildhall School of Music and Drama with Horace Barker, Ray Simmons and John Miller.
In 1982 he became a member of the Chamber Orchestra of Europe, a post which has taken him all over the world. Highlights have included Beethoven cycles in Salzburg and New York with Nikolaus Harnoncourt, Schubert cycles in Salzburg and Japan with Claudio Abbado, Rossini operas with Abbado, Sibelius cycles in Edinburgh and Finland with Paavo Berglund, a Beethoven cycle with Sir Bernard Haitink, and the many world-class soloists he has had the privilege to accompany.
The continually varying challenges of a freelance music career help keep Julianís life interesting and stimulating. He once spent a week in a BBC recording studio playing conch shells. On another (Royal) occasion the expected cue was not given, and the Queen was kept waiting for her fanfare! There goes the knighthhood then!
His solo repertoire includes Haydn, Hummel, Vivaldi, Neruda, Copland, Aratunian, and Shostakovitch, including a recording of the Concerto for Piano, Trumpet and Strings with pianist Steve Robbings and the New English Orchestra.
Julian is Head of Brass at Peter Symondsí College, and also teaches at Winchester College, St Swithunís School, Pilgrimsí School and Southampton University. He directs the band and choir at the Salvation Army in Alton. He is a regular teacher, performer and coach at the Masterworks Festival in Indiana and at the Crescendo Summer Institute for the Arts in Hungary.