Bandmaster Chris Kennett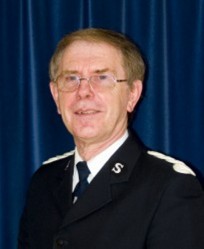 Bandmaster: CHRIS KENNETT
Chris started his musical career in 1950 when he became a member of the YP Band at the Pokesdown corps in Bournemouth. In 1959 at age 16 he became the YP Band leader. Chris served as a member of the corps band from 1958 – 1960 until he left to join the Royal Army Service Corps, Staff Band later to be the Staff Band of the Royal Corps of Transport.
In 1963- 1965 Chris attended the pupil's course at The Royal Military School of Music Kneller Hall, gaining the Cousins Memorial Diploma for Cornet.
On returning to the band he became a member of the Solo Cornet section and travelled extensively both home and abroad performing as cornet soloist on many occasions.
In 1970 at the completion of military service Chris became a bandsman at the Alton Corps of the Salvation Army in Hampshire, and also a brass peripatetic teacher with Hampshire Education Authority. This position came with the added responsibility of conductor within the Hampshire County Youth Bands. In 1972 he became bandmaster of The Alton S.A. Band a position he held for 18 years. He also spent 14 years as a staff member of the Salvation Army's Bristol Divisional School of Music,
In 1990 Chris and his wife Dot moved to Portsmouth Citadel becoming a member of the Portsmouth Citadel Band. In January 1992 he became the Bandmaster holding the position for the next 6 years
Chris has also worked within music retail running the Southern Branch of Rosehill Instruments, and eventually the family business Kennett Music in Alton.
During 1996 in his capacity as Bandmaster of Portsmouth Citadel he gave great support and practical assistance to those involved in the formation of the Solent Fellowship Band and in 2002 Chris was appointed Associate Conductor of the band.
In January 2007 Chris took over the leadership of the Fellowship Band a role he fulfilled admirably until retirement in January 2011.
Sadly and all too early for anyone who knew Chris, Chris developed lung cancer in 2019 and slipped from our presence quite rapidly leaving Dot and his 4 children behind. There is hardly a day goes by without someone in the band remembering him and missing him in some way. He left a lasting legacy with the work he did with the band and his presence will be felt for many years to come.