CAROLLING 17 December 2016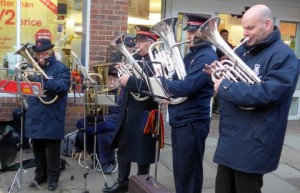 "It is really Christmas with real music from a Salvation Army Band"
My first distinct musical memory, before the evacuation, is that of the pre-War St Peter Port, Guernsey SA band, playing at the White Rock on a sunny summer evening: and hearing the band "on the wind" as I was taken home for bedtime. And I remember many cold December nights somewhat later, playing carols in the streets of Southsea, Southampton and Derby and, yes, if you were not careful the valves really did freeze up in the colder winters of decades ago. And in consequence hearing a Band playing outdoors in a townscape always has a resonance of times past.
With my extremely able partner on our SFB section back from his holiday, I took to the Collection Box! And as the money rolled in I had the additional pleasure of enjoying the playing of our small ensemble, on a beautifully warm sunny Sussex December afternoon. This quite unlike the previous week when a group led by Associate Conductor John Bird had played carols, equally enjoyably, on a dank, damp, dark and dismal afternoon.
A happy collaboration of the Bognor Regis Band, and the Solent Fellowship Band, once again the group led by Bognor's bandmaster Frank Bedford was about the right size for carolling; its sound echoed and resounded around the ancient buildings of the Cathedral City.
Of course, we go carolling to benefit from the generosity of members of the public expressing their respect for the Army's work by contributing to its funds, but I wondered whether the carol playing was just that or whether it meant anything to the passers-by.
The giving was generous, invariably with a happy smile, many of the older ladies donating from what must in many cases have been slender resources; often money was quietly slipped in the box, large value notes and £2 coins were not by any means unusual and many young parents were teaching their little ones how to give, giving them many coins to put in the box. And the comments were generous: "It is really Christmas when there is real music from an SA Band" but one of many. And by the time the Band had reached the end of its stint it had attracted a crowd who had stopped to listen and to applaud.
It really is impossible to know whether the playing had any "mission impact": but people have memories of singing carols at School and of taking part in Nativity plays, and in the rush to shop a carol by a Salvation Army Band resonates in the memory. The Baby in the Manger may not be in the forefront of many minds on Christmas morning, but, maybe, for just a few minutes on a Saturday afternoon in town?[DD]