A wise man builds his house upon a rock!
In this case on bricks!
The Hayling Island Community Centre, a community facility in use from morn till night with recreational, social and educational activities for people of all age groups is raising money for a very much need extension. And the Fund Raising Campaign is based on a "Buy a Brick" Scheme.
Following its policy of supporting community endeavour throughout the region, the band donated a concert, on Friday March 11 2016, with the intention of buying as many "£10 bricks" as possible.
The band in sparkling form under new bandmaster Dan Redhead excited a large and receptive audience with marches "Motivation" [Himes]," Wonderful Day" [Ponsford], "Bognor Regis" [Condon], "South Coast" [Martyn Thomas], and as an encore as they were homeward bound Eric Ball's ever fresh "Star Lake": enthralled with its soloists, Martyn Thomas with "Silver Threads" [Twitchen], Callum Carter with Audoire's "An Irish melody" and Steve Jones with Brindley Boon's early trombone solo "Count Your Blessings": amused with "Dance Like David" [Mackereth] and "Round up" [Cordner]: and soothed with a very laid back Deep River [arr Broughton], "Can you feel the love tonight" from "The Lion King" [arr Bernaerts] and "A Gaelic Blessing" [Rutter arr RSA].
A "Time for Reflection" centred on a sensitive performance of Bramwell Coles' much loved "Hill of Calvary" following the band's singing of Leslie Condon's arrangement of Ernest Fewster's setting of Catherine Baird's poem "When Jesus looked o'er Galilee", and Trevor Dawson's thoughts based on Romans Chapter 8 v 31-39 during which he spoke of aspects of the Crucifixion and the Resurrection and their applicability to the modern world.
As always on Hayling Island the audience sang heartily, "Mine eyes have seen the Glory" and "God's Love is as High as the heavens, God's love is as deep as the sea" to the melody "My Bonnie Lies over the Ocean"
The Mayor of Havant, Councillor Leah Turner on hearing of the concert expressed a wish to attend despite having an exceptionally busy schedule on the day. She said that it was a pleasure to meet Bandmaster Dan Redhead and the members of the Solent Fellowship Band, congratulated Dan on his first concert as Bandmaster and wished him well in his new appointment. She noted that this year the Band celebrated its 20th Anniversary and commented on the many churches and charities in Portsmouth and the wider Southern area that had enjoyed concerts given by the band in support of their various projects. She also thought it remarkable that all of these concerts had been donated by the members of the band and that despite the fact that they travelled to their concerts from all over Hampshire and West Sussex they made no charge, thereby ensuring that all the money raised went to the project being supported. She expressed her gratitude and delight that once again the band had donated the concert.
The band was joined for the evening by Bell Canto the Hayling Island U3A Handbell team. Their first set was "Sweet and Low", "The Minuet and Trio" from Haydn's String Quartet Op8 and extract's from Straus "Wine Women and Song": the second had extracts from Strauss "Blue Danube", "The Cradle song" attributed to Mozart and the "Wiener Burgomeister" March written by Austrian Military Bandmaster Franz Wagner.
How many bricks did we buy? The Band bought the first one, the audience another 85. (DD)
---
GIFTS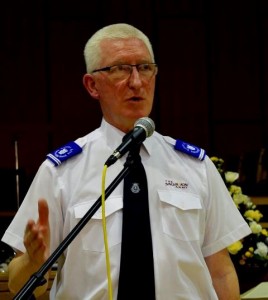 A previous report told of the happy evening spent by the band celebrating his achievements and saying thank you for John Bird's five ground-breaking years as bandmaster, during which as previously noted the band ventured twice into the recording studio, played a Festival in the Regent Hall and supported the Army's 20th Anniversary celebrations in Estonia.
John took the Band into music acceptable and accessible to audiences not versed in the traditions and styles of SA music: but always ensuring in his programmes that there was a time for congregational thought and reflection.
Inevitably, the band wanted to mark the event with a dinner and with gifts. It was all superbly organised and masterminded by Band Secretary Sue Bird who managed with spousian "adroitness" to keep the arrangements from husband John. And assisted by several members of the Band's Executive Committee the various gifts were arranged.
The obvious one was a certificate of Honorary Life Membership of the Band in recognition of John's exceptional service: and after a visit by Secretary and Assistant Secretary to very specialist bookbinders, adjacent to the Cathedral at Winchester, a leather bound, gold lettered, copy of the score of Dean Goffin's "Light of the World", clearly John's favourite piece of music, was produced: and with additional leaves for members of the band to record their thoughts and memories in his keepsake.
The gift in which we all shared, arranged by Executive Member Tony Unwin, was a visit by Derick Kane. Interviewed by Tony, Derick gave us some idea of what it takes to become a soloist of international standard, not least the life time of devoted hard work that is entailed in maintaining the necessary standard in a musical world and environment of ever increasing challenges. And there were glimpses of his many experiences in a life time devoted to Army music.
The special gift we shared with John was Derick's playing. First, Chris Mallett's "Travelling Along". Technically impeccable, musically superb: a joy to hear: followed by Kenneth Downie's arrangement of "My Love is Like A Red Red Rose". This was consummate musicianship, it was so beautifully played that one wanted it to go on for ever!
And at the end no-one could bear to profane this lovely, albeit ephemeral memory with applause: just quiet, deep appreciation of our enjoyment of Derick's gifts so generously shared with us. [DD]
---
NEW Bandmaster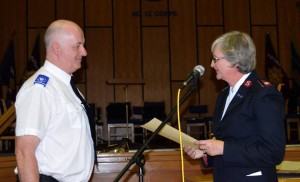 This picture shows New Bandmaster Dan Redhead receiving his appointment from Lieutenant Colonel Karen Shakespeare, Divisional Commander.
More coverage on this appointment soon.
---
Bandmaster John Bird Retires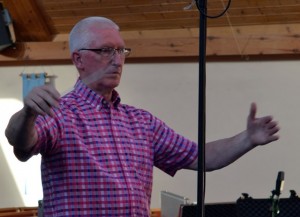 We are sad to report that John Bird has relinquished his duties as Bandmaster.
John was Bandmaster of The Solent Fellowship Band from 2011 until he retired in that position in a special meeting of recognition yesterday evening, when his Deputy Bandmaster Dan Redhead took the responsibility over.
The evening took the form of a meal with many band members past and present attending. Messages were read for people who couldnt attend. A short service of recognition took place afterwards conducted by our Divisional Leaders Majors Karen and David Shakespeare. A highlight of the evening was a question and answer session between our own Tony Unwin and Staff Bandsman Derek Kane followed by two solo pieces on euphonium. There was some recognition for the long service Derek has given the International Staff Band as their Principal Euphonium for 40 years.
John presided over a most successful and satisfying period of the bands history. This included the bands first two CD 'albums' the tour of Estonia and appearances at various venues such as The Regent Hall in Londons Oxford Street. He saw the band grow in numbers and decline in average age - a great achievement!
More information on these moves to follow but in the meantime we wish John well in his newly found free time!!