David Samuels, Promoted to Glory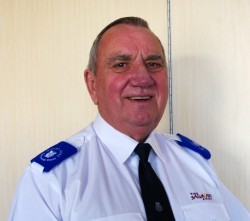 It is with much sadness that we have to announce the promotion to Glory of our dear friend and colleague, David Samuels. David passed away on Tuesday 18th July.
Davids Funeral will be on Monday 7th August at The Oaks, Crematorium at Havant at 2.30pm.
David was our Deputy Bandmaster for a while and saw us through a transitional period without a bandmaster. David joined the band in 2004 as one of our percussionists and occasional Baritone sub.
David served as a Salvation Army Corps Bandmaster at Sholing Corps and Songster Leader at Portsmouth Citadel. He was a bandsman at Staines and Thornton Heath as well as being a member of the trombone section at Portsmouth Citadel which included a stint on Bass trombone, following in the footsteps of his father who had been the bass trombonist of The International Staff Band..
For a number of years he was a very successful Musical Director of a contesting band that was graded at Championship Section level in the Wessex Region, and 1st Section Nationally.
Outside of banding David was a retired Police Officer and Sales Manager (not at the same time!). He was married to Yvonne. He enjoyed Gardening, walking and watching Cricket.
David retired from the band in 2015, although he still popped back now and then to help out on the percussion section.
David will be sorely missed in the coming days and years and our thoughts and prayers are with the family, especially Yvonne at this time