LOOKING FORWARD TO COMING BACK!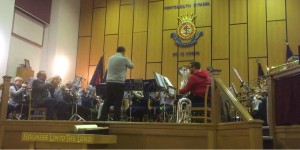 It does finally look as though we may be coming out of our country wide restrictions at long long last!
To this end we are currently planning to resume our rehearsal schedule in September. It will be an interesting time as we all learn to play together again after such a long break and there will, no doubt, be some tired lips at first!
However we are very optimistic that the band will soon be able to accept engagements for programmes again. If anyone is interested in booking such an event we would be delighted to hear from you.
Please get in contact with us either directly or though the contact page on this site.
We look forward to meeting old friends again as well as finding new ones.